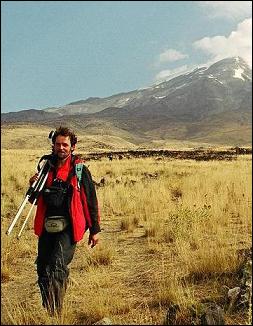 "I've lived as many times as I've traveled" - these are the words of a famous French traveler that has discovered Himalayas for the world, Michell Passel.
1985, in Altai "Rorich road", my journey towards the Himalayas has started... Independent varicosity of the nature, its beauty, wishes to feel the impressions of the travel again and to present them to the others has encouraged me to take video and photo cameras in my hands.
I've created several films, videofilms ("Stairs to the Everest", "Why are Komodo dragons smiling?", "Lo or Windy Kingdom"), have published several photo-essays and articles in the magazines and newspapers ("Musu gamta", "Mir putesestvij","Kelioniu magija","Keliones ir pramogos", "Lietuvos rytas", "Respublika").
By walking, riding the bike, kayaking or climbing the mountains and going underground I've traveled former Soviet Union all over across, from Kara - Kumy desert to Kuril islands.
When preparing Lithuanian expedition to Everest in 1991, I've been to Himalayas for the first time. For the last ten years I've walked on many paths, that were leading to the biggest heights of the world. I've seen eight out of fourteen biggest heights: Annapurna, Dhaulagiri, Everest and etc. I'm specializing in the trips to Asia now: India,Sri Lanka, Nepal, Mustang, Sikkim, Bhutan, Indonesia, and Southeast Asia countries. I did the first Lithuanian expedition to the Mt. Ararat(Agri).
While traveling, I've always thought about people, that have revealed the beauty of the world for me.
With the photos I'd like to show a little part of the beautiful places of the world and mountains "that begin where the others end".